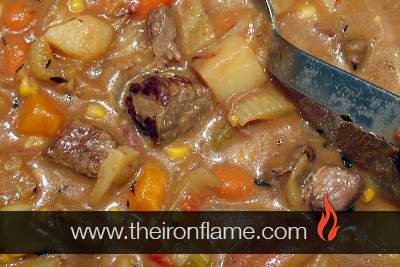 Dutch Oven Size:
12″ Dutch Oven
Ingredients:
1- 1.5 pounds of stew meet (1 inch cubes)
2 Diced yellow onions
3-5 potatoes (cut into 1 inch cubes)
1 cup of baby carrots
1 cup of corn
1/2 cup of diced mushrooms
1/2 cup of diced celery
2 beef bouillon cubes
2 cans of mushroom soup
Salt, pepper and your favorite seasoning
Directions:
Use full pattern of briquettes on bottom to heat 12-inch Dutch Oven and 1/4 inch of cooking oil. Cook other veggies you may wish to add. Brown onions and meat together. Drain off excess oil. Add potatoes, carrots, corn and all bouillon cubes, mushroom soup, salt, pepper and seasonings, which may include a seasoning salt, curry, oregano, cloves, bay leaf, etc. Add enough hot water to cover veggies. When recipe reaches a simmer, pull enough briquettes to maintain the simmer, stir occasionally and cook until the meat and carrots are fork tender.
Preparation and Cooking Time:
1-1.5 Hours
Serves:
6-8