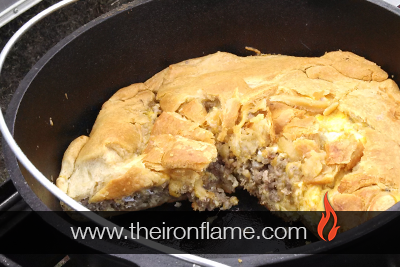 Dutch Oven Size:
12″ Dutch Oven
Ingredients:
3 Tubes of Pillsbury Crescents
2 lbs. of Ground Breakfast Sausage
8 Eggs
1/2 tsp Salt
1/2 tsp Pepper
1.5 Cups of Grated Cheese
Directions:
Unroll and press 1.5 tubes of Pillsbury croissant dough in the bottom and sides of Dutch Oven. Brown 2 lb. of ground breakfast sausage. Drain grease from sausage and place inside the Dutch Oven on top of the Pillsbury croissant dough. Whip 8 eggs together and season with salt and pepper. Sprinkle cheese on top. Unroll the remaining 1.5 tubes of Pillsbury croissant dough and place on top until other ingredients are covered like a pie. Bake at 350 degrees until the eggs are done. Cut and enjoy!
Preparation and Cooking Time:
30-45 Minutes
Serves:
8-12
Other Special Information:
This recipe is great with Salsa!