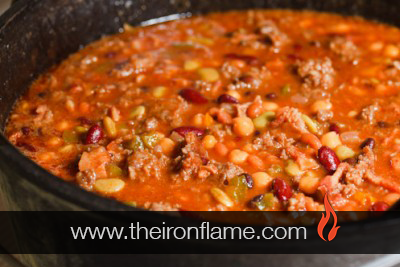 Dutch Oven Size:
12″ Dutch Oven
Ingredients:
2 lb ground chuck
2 cans (15 oz) pinto or black beans
1 can (29 oz) crushed tomatoes
1 can (8 oz) tomato sauce + 1 can water
1 chicken bouillon cube
1 large yellow onion – chopped
3 clove garlic – peeled and diced
1 to 2 ribs of celery – chopped or diced
1/2 tsp baking soda
3 Tbsp white vinegar
3 Tbsp brown sugar
1 Tbsp ground chile powder
2 tsp steak sauce
1 Tbsp paprika
1 tsp garlic powder
1/2 tsp dried oregano
4 Tbsp olive oil
salt and ground black pepper shredded cheddar cheese, sour cream, for topping, jarred jalapeno peppers, hot sauce, for topping (optional)
Directions:
Heat Camp Dutch Oven to 300-350 degrees. add 2 Tbsp olive oil to the Camp Dutch Oven; add beef. Brown beef; season with salt and pepper. After the meat is brown, remove meat with a slotted spoon or spider to a bowl; empty grease from Dutch oven.
Add 2 more Tbsp olive oil to Dutch oven; add onion, and celery; season with salt and pepper. Saute, stirring with a wooden spatula or spoon, until veggies are soft.
Add beef back to the Dutch oven; add the garlic; cook until garlic is fragrant. Add crushed tomatoes, tomato sauce, water, bouillon cube and beans. Stir to combine.
Add baking soda and stir (It will foam.). Add in brown sugar, steak sauce, Chile powder, paprika, garlic powder, oregano, about 2 tsp of salt, and black pepper; stir to combine. Bring it up to a bubble; cover and turn down heat to 250 degrees. Simmer 3 hours, stirring about every 20 to 30 minutes. Remove coals if it begins to stick at all.
Serve with bread and butter, corn bread, or tortilla chips, and top with shredded cheddar cheese and sour cream. Can also be topped with pickled Jalapeno peppers and/or hot sauce.
Preparation and Cooking Time:
3.5-3.75 Hours
Serves:
6-8