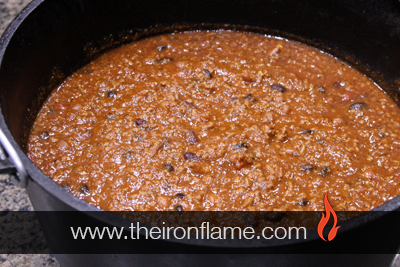 Dutch Oven Size:
10-12″ Camp Duch Oven Dutch Oven
Ingredients:
2 tablespoons olive oil
1 cup chopped onion
1 tablespoon minced garlic
2-1/2 pounds lean ground beef
3 tablespoons chili powder
1 teaspoon ground cumin
1 teaspoon dried basil
1 teaspoon dried oregano
1/2 teaspoon dried thyme
1/2 teaspoon crushed red pepper, or to taste
1 teaspoon salt, or to taste
1 tablespoon fresh ground pepper, or to taste
1 (28-ounce) can crushed tomatoes with added puree
1 (14 1/2-ounce) can tomato sauce
1 (16 ounce) can Bush's Chili Beans in Chili Sauce (or similar brand), undrained
1 (15 ounce) can black beans, drained
1 (15 ounce) can kidney beans, drained
1 (12 ounce) bottle beer (Use a nice dark beer like this Gordon Biersch WinterBock. Brown ales work well too, but it's fine to use whatever you've got on hand.)
Directions:
Heat oil in heavy large pot or Dutch oven over medium-high heat. Add onions and garlic. Saute for about 5 minutes or until onions have softened. Add ground beef. Cook and stir, breaking up ground beef, until no pink remains. Drain off as much grease as you can from the pan. Return pan to heat and add chili powder, cumin, basil, oregano, thyme, crushed red pepper, salt and pepper. Stir 2 minutes. Mix in crushed tomatoes, tomato sauce, beans, and beer. Bring to a low boil, then reduce heat and simmer, covered, for 1 hour.
Remove lid and continue to simmer, uncovered, for an additional 30 minutes.
Taste and season with additional salt and pepper, if needed.
Preparation and Cooking Time: 1.75 – 2 Hours
1-1.5 Hours
Serves: 8-10
6-8
Other Special Information:
Serve with grated cheese, sour cream, and any other toppings desired.
Serve wit our Dutch Oven Sweet Honey Corn Bread
Original Recipe: Valerie's Kitchen