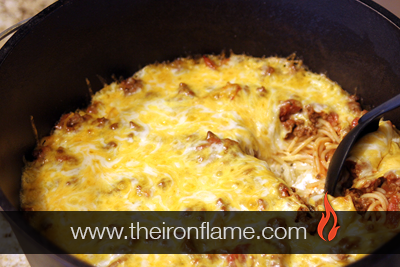 Dutch Oven Size:
10-12″ Camp Dutch Oven Dutch Oven
Ingredients:
1.5 lb of ground beef
1 jar of spaghetti sauce
8 oz of cream cheese
1/4 cup sour cream
1/2 lb cottage cheese (equals 1 cup)
1/2 cup butter (1 stick)
1 pkg spaghetti 16 oz
Grated cheddar cheese
Directions:
Prepare noodles by boiling until it's tender but slightly firm to the bite. Drain and set aside until ready to prepare. Combine the cream cheese, sour cream and cottage cheese until well blended. Brown your hamburger and when done, drain well. Combine the hamburger with your spaghetti sauce. Now put a few slices of butter into a dutch oven pan then pour half of your spaghetti noodles on top. Take your cream cheese mixture and pour on top of the noodles. Spread well over noodles. Pour the rest of the noodles on top of the cream cheese mixture. Put a few more slices of butter on top of the noodles. Pour your spaghetti and meat sauce on top of your noodles. Cook at in the dutch oven at 350°. After 30 minutes, pour the desired amount of grated cheese on top and return to the oven for 15 minutes to allow cheese to melt.
Preparation and Cooking Time: 1 – 1 1/4 Hour
1-1.5 Hours
Serves: 12-16
6-8
Other Special Information: