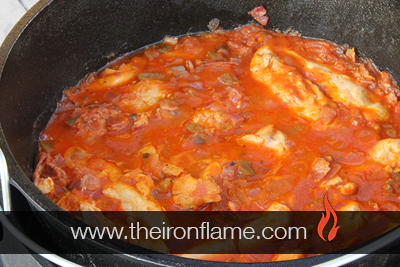 Dutch Oven Size:
12″ Dutch Oven
Ingredients:
6–8 Chicken Breasts
3 strips of bacon cut in 1/4 inch squares
1 1/2 Cups of Pace Picante Sauce or Salsa
1/3 Cup Red Wine
2 Garlic Cloves, Chopped
1 Red Onion, Chopped
1 teaspoon of Rosemary
1 teaspoon of Thyme
1 teaspoon of Salt
2 teaspoons of English Mustard Powder
2 Tablespoons of Olive Oil
Directions:
Salsa Mixture
Mix i tablespoon of oil, garlic, onions, rosemary, thyme, salt, mustard powder, Pace Picante sauce or salsa red wine and stir through.
Chicken
In a 12 inch dutch oven, heat 1 tablespoon of olive oil, and brown the chicken and bacon bits, at 350 degrees until you get a nice color on the chicken breasts.
Pour the Salsa mixture in the dutch oven on top of the chicken. Cover the dutch oven and cook for 30-45 minutes or until the chicken is cooked through.
Preparation and Cooking Time:
1-1.25 Hours
Serves:
6-8