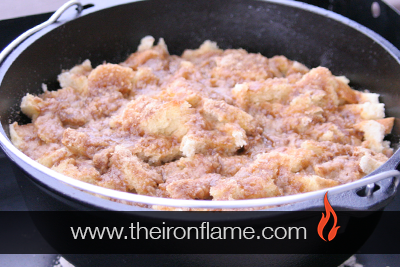 Dutch Oven Size:
12″ Dutch Oven
Ingredients:
1 Loaf Sourdough Bread
8 Eggs
2 Cups Milk
1/2 Cup Heavy Cream
3/4 Cup White Sugar
2 Tablespoons Vanilla
1/2 Cup Flour
1/2 Cup Brown Sugar
1 Teaspoon Cinnamon
1/4 Teaspoon Salt
1 Stick Cold Butter, cut into pieces
1 1/4 cups powdered sugar
3 tablespoons milk (more if needed)
Directions:
Grease a 12" inch Dutch Oven with butter. Tear bread into bite-size chunks and place evenly in the Dutch Oven. Mix together the eggs, milk, cream, white sugar and vanilla. Pour evenly over bread. Cover with Dutch Oven Lid and refrigerate overnight. Mix together flour, brown sugar, cinnamon and salt. Cut butter into flour mixture with two butter knives or a pastry blender until it looks nice and crumbly. Place in fridge in a ziplock bag until ready to bake. Make powdered sugar milk glaze by mixing the milk into the powdered sugar (add more milk, 1 Tbs at a time, if needed to achieve desired consistency). When ready to bake, take Dutch Oven and bag out of fridge. Evenly sprinkle crumb mixture over the top. Bake for 1 hour at 350 degrees. Serve with butter, syrup and/or powdered sugar milk glaze.
Preparation and Cooking Time:
1-1.5 Hours
Serves:
8-12