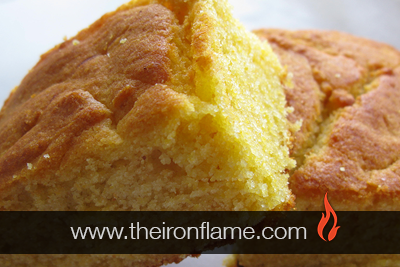 Dutch Oven Size:
12″ Dutch Oven
Ingredients:
1 cup flour
1 cup cornmeal
½ to 2/3 cup honey or sugar
1 teaspoon salt
3 1/2 teaspoons baking powder
1 egg
1 cup milk
1/3 cup oil
Directions:
Spray or lightly grease a 12 inch dutch oven. In a large bowl, combine flour, cornmeal, sugar/honey, salt and baking powder. Stir in egg, milk and vegetable oil until well combined. Pour batter into prepared pan. Cook at 375 degrees in dutch oven for 25 to 30 minutes until a toothpick inserted into the center of the loaf comes out clean.
Preparation and Cooking Time:
45-60 Min.
Serves:
8-10
Other Special Information:
The dutch oven corn bread taste excellent served with a little honey and butter on the top while it is still warm from the dutch oven.