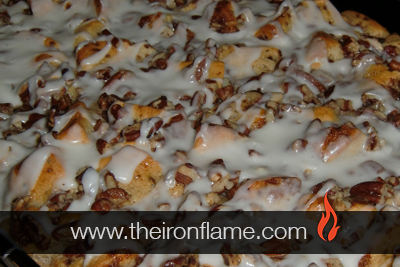 Dutch Oven Size:
10-12″ Dutch Oven
Ingredients:
3/4 cup butter
1 cup light brown sugar, packed
1 cup pecans, coarsely chopped
8 large eggs
1 1/2 cups milk
1 tsp pure vanilla extract
1 tsp pure vanilla extract
1/2 loaf French bread, cut in 1″ slices
Directions:
In a Dutch oven, melt the butter. Stir in the brown sugar. Sprinkle with the pecans and remove from fire. In a medium bowl, beat the eggs and stir in the milk, vanilla and cinnamon. Dip the slices of bread into the egg mixture allowing egg to soak in. Arrange the slices over the brown-sugar mixture in the oven. Pour any remaining egg mixture over the bread. Cover and bake for 35 to 40 minutes on medium hook over low fire until the toast is golden brown. Invert onto plates and serve. Oven Directions: Bake in 350 oven for approximately 35 minutes until toast is golden brown.
Preparation and Cooking Time:
1-1.5 Hours
Serves:
6-8