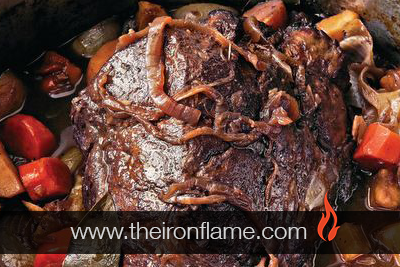 Dutch Oven Size:
12″ Dutch Oven
Ingredients:
1/2 cup flour
1 teaspoon kosher salt
1 teaspoon cracked pepper
4-6 pound chuck roast
1/2 cup corn oil
3/4 cup ketchup
3 carrots, peeled and cut in 2″ rounds
3 potatoes, cut into 2″ pieces
1 onion, chopped
4 garlic cloves
2 cups beef stock
[ingredient-12]
Directions:
Season the flour with salt and pepper and blend thoroughly. Roll the pot roast in the flour and salt mixture. Heat the oil in a 12 inch dutch oven. Sear the roast for 4 minutes on each side, or until well browned. Add the ketchup, carrots, potatoes, onions, and garlic. Cook the stew for 5 minutes. Add the beef stock and cover. Cook at 300 degrees using 7 coals on the bottom and 16 on top. Cook for 2.5-3 hours or until the beef is very tender.
Preparation and Cooking Time:
3-4 Hours
Serves:
6-8