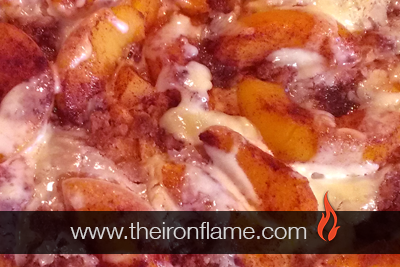 Dutch Oven Size:
10-12″ Dutch Oven
Ingredients:
1 pkg. softened cream cheese (8oz.)
10-14 slices of 1 inch thick bread
1 29 oz. can sliced peaches, drained
3 eggs
1 cup milk
1/3 cup maple syrup
2 Tbl. Butter, melted
1 Tbl. Sugar
1tsp. cinnamon
1 tsp. vanilla
Directions:
Spread cream cheese on both sides of bread. Place in bottom of Dutch Oven. Prick bread slices several times. Top with peach slices. In bowl, mix eggs, milk, syrup, butter, sugar, cinnamon, and vanilla. Pour over bread. Bake 20-25 min. or until set in center. Serve with buttermilk syrup.
Preparation and Cooking Time:
1-1.5 Hours
Serves:
6-8
Other Special Information:
Buttermilk Syrup
1 Cube Butter
1 cup sugar
1/2 cup buttermilk
1/2 tsp. baking soda
Bring butter, sugar, and buttermilk to boil. Add baking soda. Syrup will be frothy.