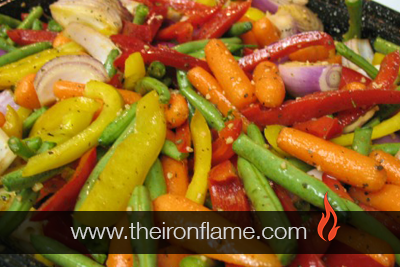 Dutch Oven Size:
12″ Dutch Oven
Ingredients:
8 cups of bite sized mixed vegetables of your choice (For example, broccoli florets, cauliflower florets, baby carrots, mushrooms, onions, bell pepper, zucchini, butternut squash, rutabaga).
1/4 pound butter
8 ounces grated sharp Cheddar cheese
8 ounces grated fresh Parmesan cheese
Salt, pepper and favorite seasoning
Water
Directions:
Put 1/4 inch water into a 12-inch camp Dutch oven and add vegetables. Season generously with salt and pepper – more than seems enough. Place slices of butter on top of vegetables. Put Dutch oven over 23 hot coals until recipe is steaming, then pull out at least half of the coals. Steam vegetables until carrots are tender. Set oven of coals, remove water with baster, cover vegetables with the grated cheeses and put lid on the oven. Serve when cheese is melted.
Preparation and Cooking Time:
1 Hour
Serves:
6-10